Shipping policy
We're proud to offer ✈️worldwide Shipping on ALL Items! Tracking and secure checkout are provided for all orders.

You can choose your preferred shipping method on the Order Information page during the checkout process. betilife.com offers 3 different international shipping methods, Air, Sea, and Expedited Shipping Service.
Track your package

Most high-quality equipment, are made-to-order. With reduced production capacities and an extremely increased order volume due to COVID-19, our manufacturing partners are currently estimating the following times from placing your order to delivery: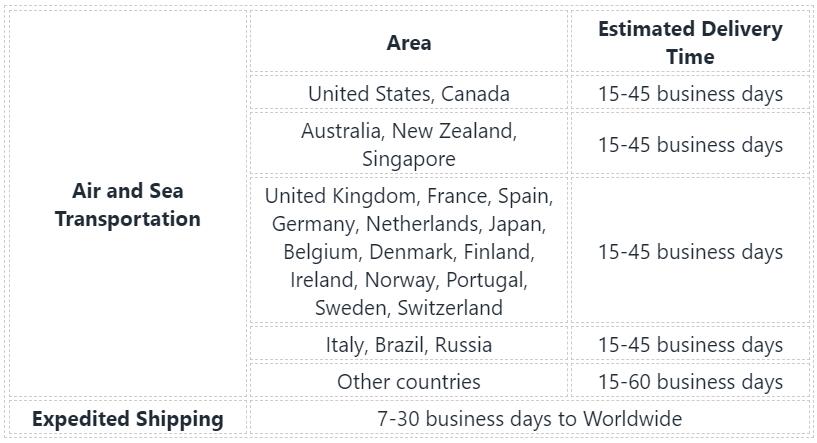 We can only list a limited amount of countries. We can not give you an approximate delivery time to other countries, where has more uncertainties during the delivery. Please understand.
Shipping costs
Free shipping is available in all areas. If you need to ship by sea or expedited shipping, please contact us in advance and we will calculate the new shipping cost for you.
How to choose the shipping method?

The customer directly orders by air by default, if you need to switch to sea or expedited, please contact us after placing the order (email contact)
Delivery time
Before we can ship your order, betilife.com has to prepare your products, do strict quality-control tests and carefully package the items. The time it takes to prepare your items for shipping is separate from the delivery time. Thank you for understanding!
Please know that our teams are working as quickly–and safely–as possible to fulfill orders. Processing time could take up to 3 business days, orders ship within 1-3 business days upon purchase.

COVID-19 Notice: Some packages may experience a 1-2 week shipping delay, as our logistics partners try to circumvent global lockdowns.

Shipping times vary based on customer location and from product-to-product; based on demand and shipping location.

We ship from our partnered warehouses & factories located in China. Please expect your items to be shipped separately (if you order more than one item) as different factories specialize in different areas of manufacturing.

Please contact us prior to placing your order about current shipping times for the equipment you are interested in. Please email the product information to our Fulfillment Department at support@betilife.com for further assistance.

*Local holidays in origin countries that may cause a delay in shipping are not considered business days.
I paid for Expedited Shipping but I am in a country that requires customs duty. How can I deal with this?

In consideration of our customers' benefit, we will try our best to help customers to reduce customs duty value. However, customs duty is out of our control, customer have to afford the duty once it happens. We sincerely apologize for any inconvenience this may cause you.

It is urgent that I receive my order through expedited shipping.

betilife.com is happy to provide our customers with expedited shipping service. However, there are additional costs to consider before choosing this option. Any custom or import duties are charged once the parcel reaches its destination country. These charges must be paid by the recipient of the parcel. Unfortunately, we have no control over these charges, and cannot tell you what the cost would be, as customs policies and import duties vary widely from country to country. We recommend that contact your local customs office for current charges before you order, so you are not surprised by charges you were not expecting.

Notice: If you choose expedited shipping, please remember to leave your contact number, this is required for expedited shipping. Contact us for the expedited shipping option details.

Delivery: A shipment email will be sent after your items have been shipped. Tracking information can be checked from your betilife.com account.

All items being sold at betilife.com are guaranteed to be delivered to buyers within 60 days (120 days to Brazil, 90 days for Ecuador, Venezuela, Argentina, Bolivia, Peru, Italy, Russia, and South Africa). You can get a full refund if you have not received your item(s) beyond this time.

Full refunds are not available under the following circumstances:


Delays caused by the buyer providing incorrect or incomplete delivery information;
Delays in delivery caused by any force majeure incidents, such as natural disasters, bad weather, and war;
Any uninsured order that is lost or stolen;
Delays in delivery caused by any other beyond betilife.com's control, such as public holidays and Customs issues.
If you have other questions you don't understand, please click here: contact us