Alpicool T60 Review & Usage Manual PDF
Let's take a look at the Alpicool T60 reviews of old customers, and share the Alpicool T60 manual PDF by the way. Many users have expressed unanimous praise for our Alpicool T60 refrigerator (portable and cold enough), and they like and are satisfied with our Alpicool T60 very much.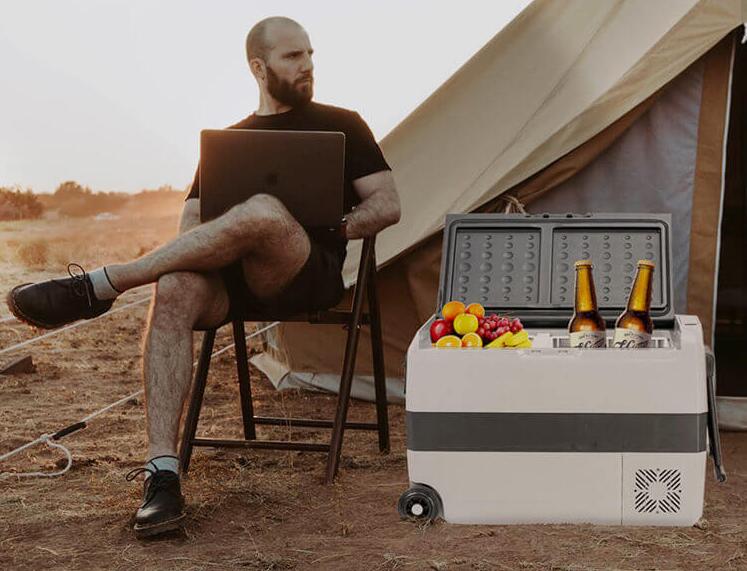 Alpicool T60 Reviews
In today's video, we meet my good friend Doug again and do a follow-up review of the Alpicool T60, 63 Quart, 12-Volt Compressor Fridge he is testing for me.
What makes it very special is that it only costs $899 but has both a built-in fridge and freezer section with two different thermostats so that he can have items frozen on one side and things refrigerated on the other—AT THE SAME TIME!
The bottom line is that so far he loves the refrigerator, it has performed perfectly and he is delighted with it!! He loves being able to buy items on sale and then freeze them, but at the same time keep fresh food perfectly cold. It's by far the cheapest unit like it and has been very reliable so far! Highly Recommended!!
Today I am reviewing the Aplicool T60 portable refrigerator. It can hold 63 quarts and has a divider in the middle and each side can be independently temperature controlled. Since we are self-quarantined ourselves, I really can't go on a road trip to test it out.
However, on certain days, I am an essential worker performing home healthcare nursing duties. I am usually out for the whole day and sometimes cover way over 200 miles.
So I decided to use this opportunity to test out the Aplicool unit to simulate a road trip condition, especially with all the other electronics I have connected to my truck's battery system. have been getting bored as heck from self-quarantining myself. Due to all the stops I made, it looks like this video will turn into a 3-part series.
Welcome back to Part 2 of my review of the Aplicool T60 portable refrigerator.  We learned some of the positives and negatives of this unit running off of my truck's battery and how I overcame the challenges.   So, it is also a VLOG on my workdays. video will turn into a 3-part series. 
Alpicool T60 Manual pdf
Click here for detailed instructions: Alpicool T60 manual pdf
Alpicool T60-LG Dual Temperature Control 12 Volt Refrigerator 63 Quart Portable Car Fridge Freezer (-4 F~68 F) for Truck, RV, Boat, Camping and Travel.
❄ Freezes Without Ice: Power By Lg Compressor,Cooling Reach To -4°F(-20°C),Showing Powerful Chilling Performance.You Can Adjust The Temperature Be A Fridge For Left Zone And Freezer For Right Zone. Run Great With Your Small Solar System As Well..
❄ Features Design:With Foldable Handle And Wheels For Easy Carrying, Included Built-In Led Light And Internal Basket..
❄ Car Battery Protection:With Temperature Memory Function And 3 Different Levels For Battery Protection: Low, Med And High To Protect Your Vehicle Battery Without Run Down..
❄ Dual Temperature Control: Detachable Sensor Divider To Switch Single Temperature Zone Or Two Temperature Zone In One T60-Lg Refrigerator..
Features
STORAGE SPACE:Exterior Size 28.5"x14.2"x21.6", 63 Quart(60 Liter) capacity ,fits 75 x 12ozs cans of Cola.
DUAL TEMPERATURE CONTROL: Detachable sensor divider to switch single temperature zone or two temperature zone in one T60-LG refrigerator.
FREEZES WITHOUT ICE: Power by LG compressor,cooling reach to -4 F(-20 C),showing powerful chilling performance.You can adjust the temperature be a fridge for left zone and freezer for right zone. Run great with your small solar system as well.
CAR BATTERY PROTECTION:With temperature memory function and 3 different levels for battery protection: Low, Med and High to protect your vehicle battery without run down.
FEATURES DESIGN:With foldable handle and wheels for easy carrying, included built-in LED light and internal basket.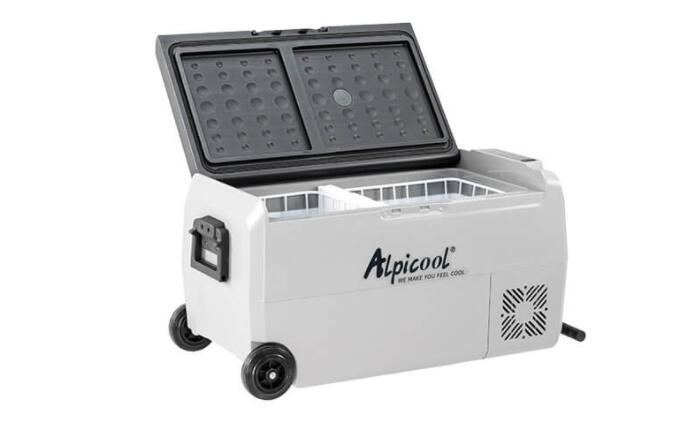 Brand: Alpicool   |   Manufacturer: Alpicool
Dimensions: 21.57 x 28.46 x 14.17 Inches
Official website price: $999
Click to look at: Alpicool T36/50/60L portable outdoor camping refrigerator details
Alpicool T60 FAQs
The Alpicool fridge uses German compressors or LG compressors and adopts fluorine-free condensation technology, which can quickly cool down to -20°C, with strong stability, energy saving, low consumption, and low noise.
How many amps does a 12 volt cooler draw?
A 12 volt fridge uses between 30 and 55 Ah (amp hours) per day on average.
Do car coolers drain your battery?
Generally, a 12-volt cooler will not have the capacity to drain your car battery while your car is running. However, many models will continue to draw power whether or not your vehicle is turned on, so be sure to check your user's manual before plugging in your new 12-volt cooler.