5 Best Fishing Coolers This Year
Comment and buy the best fishing coolers? Introduce the 5 best fishing coolboxes of this year, 25-50L capacity, portable, sturdy, reliable, fresh-keeping, to satisfy your fishing trip.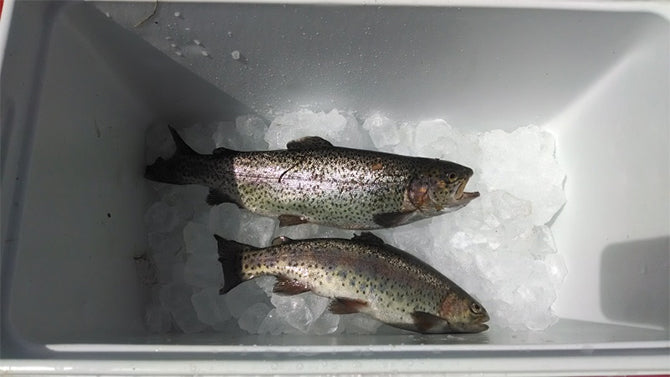 Whether you're going for an afternoon of fishing or planning a multi-day fishing expedition, you will need the best fishing cooler that will keep your catch, bait, food, and drinks chilled and fresh for as long as you'll be fishing. Depending on how you fish, you can opt for a traditional ice chest, a portable ice chest, or an insulated fishing bag.
Q: Why Do You Need A Fishing Cooler?

A: The best times to fish are summer and spring days when the sun is shining bright and the weather is warm. Under these conditions, caught fish can go bad very fast. If you plan to keep the fish you catch, a fishing cooler will keep your fish chilled and fresh, especially when you're on a long fishing trip.
A cooler is better at preservation than using UV light or salt as it preserves the freshness without compromising the flavor. You can also use a cooler to keep live or dead bait fresh and life-like. Finally, a cooler is a portable fridge you can use to keep your refreshments cool and fresh.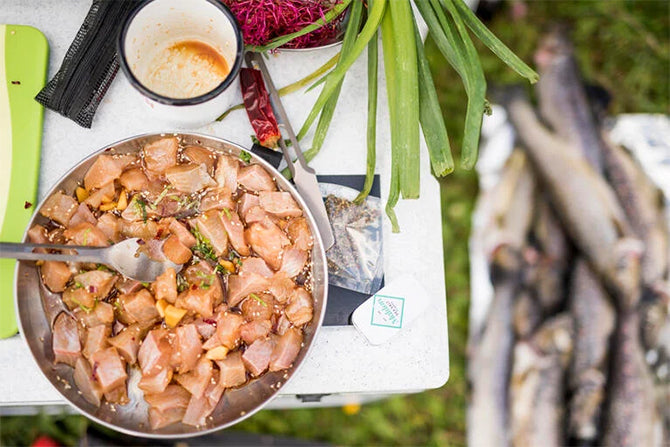 Sashimi-quality camping
If we have a high-quality cooler, we can make fresh fish, herbs, fruits, vegetables and rice in just 15 minutes, and we can enjoy a simple sashimi meal at any time.
Q: Should I Choose A Portable Bag or Sturdy Fishing Cooler?
A: This will depend on how you will be getting to your fishing spot, how you will be fishing, and how long your fishing excursions last. For boat fishing and long fishing expeditions, a sturdy fishing cooler is a typical choice. You may prefer a portable fish bag cooler if you're going to be moving on foot a lot, kayak fishing, or going on a short trip. Here are the pros and cons to weigh when deciding:
The advantages of a portable fish bag are that it is lightweight, compact, and easy to carry on foot. The best soft-sided fish cooler can hold ice and keep your catch chilled and fresh all day. It may also have compartments so you can keep your refreshments separate from the fish. When not in use, it is easy to pack and store. The disadvantage is that an insulated fishing bag retains ice for a short duration and isn't as durable as a sturdy ice chest.
The advantages of a sturdy fishing cooler are that it has excellent ice retention and can keep fish cold and fresh for days even in extremely hot conditions. The best fish cooler boxes can hold ice intact for up to 10 days. It also has a rugged build and superior durability. The disadvantage is that fishing ice boxes can be too heavy and cumbersome to carry. It also occupies a lot of storage space.
How to choose the best fishing cooler? You can choose the best fishing cooler for how you fish, how you travel to your fishing destination, and how long your fishing excursions last. 
Insulation
The most important factor to consider when choosing the best cooler for fishing is the quality of insulation a cooler is equipped with. This determines how long a cooler can hold ice intact and therefore its ability to keep its content chilled and fresh. A good fishing cooler should be able to hold ice and keep your fish, bait, and refreshments chilled and fresh for as long as your fishing trip lasts.

Size
The exterior dimensions and weight of a fishing cooler are important considerations to make as they affect how easy the cooler is to carry and whether it can fit in the storage space you have.
A portable fishing cooler should be compact so it can fit in a tight space. Kayak fishing bags are usually long and narrow to fit perfectly in the deck or storage compartment of a kayak. Small fishing coolers and soft-sided fish coolers should also be lightweight for ease of carrying.
Heavy-duty marine coolers and boat fishing coolers, on the other hand, are heavy and large fishing coolers because they're constructed to hold large loads and feature thick insulation for prolonged ice retention.
Capacity
When buying a fishing cooler, it's important to consider its interior capacity. This is the space you have for ice and the items you want to keep chilled. For a multi-day fishing trip or for holding large fish, you will need big fish coolers with a high storage capacity. A small, portable fishing cooler or fish bag with a 25-quart capacity is sufficient for an afternoon excursion catching small fish. A 45-50 quart capacity is the best size cooler for fishing for a day-long or weekend trip. Big fishing coolers capable of holding hundreds of cans are what you need for long fishing trips or for preserving large fish.
Manageability
You're going to be handling your fishing cooler a lot. The best fishing cooler should be a size and weight that can be carried easily. You may prefer a lightweight insulated fishing bag if you're going to be trekking a good distance. Even with a heavy-duty styrofoam cooler for boating, you're still going to have to handle it when loading it onto and off your boat or truck. Choose one with strong handles and/or roller wheels for ease of handling.
Is an electric cool box always better than non-electric?
As ever, the answer is "it depends"...
Pros of electric:
Electric coolers are miniature fridges. They actively cool your food rather than simply maintaining low temperature, and they keep food chilled for many days.
Mains-powered boxes are more powerful, but 12V in-car electric coolers are ideal for keeping in your motor for road trips and commutes.
Most do insulate when unplugged, provided you load them with ice packs.
Cons of electric:
Electric coolers can make your food too cold. You don't want frosty sarnies.
They're heavier litre for litre than non-electric boxes.
They're small. You will struggle to find a cost-effective electric cooler much larger than 24 litres.
Through the above content, after we have analyzed and understood the needs of fishing coolers, we can choose our own coolers. Our purchase guide further explains the factors that need to be considered.
1. Alpicool K25L Fishing cooler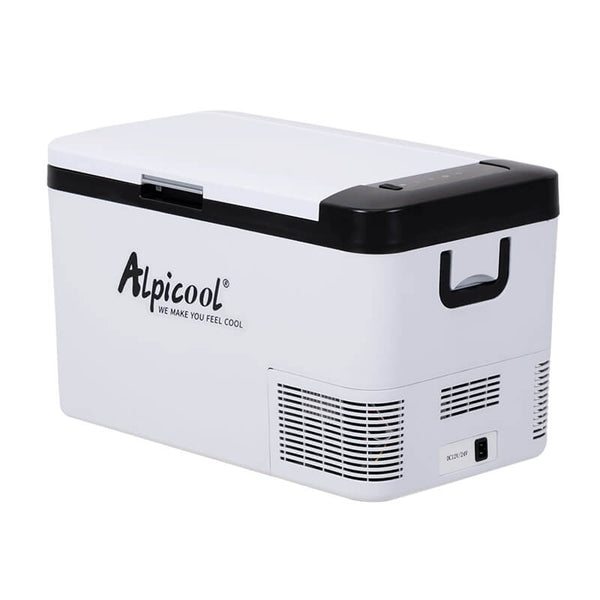 Detailed introduction: Alpicool K25
It is a fishing cooler with a relatively small capacity. Its 25-liter capacity is not inferior-you can fit about 30 330 ml jars or three 1.5-liter bottles in it, which means you can fill it up and there is room for ice packs.
The locking and sealing are very good, with the help of ice, it can refrigerate the contents for two days or more. If you are about to go on a big fishing trip and the 25-liter capacity is not enough, you can also get the 30L/40L/50L version-these are all excellent value for money.
2. Alpicool CL30/40/50L Fishing Coolers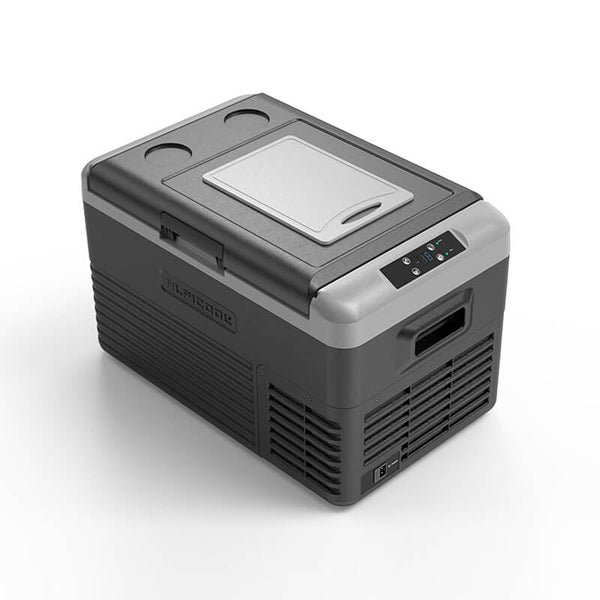 Detailed introduction: Alpicool CL30/40/50L
The Alpicool CL series includes Alpicool CL30, Alpicool CL40, and Alpicool CL50. It is an APP-controlled 12V 24V DC mini outdoor camper refrigerator. It is equipped with an LG compressor and is also suitable for outdoor mountain fishing cooling.
Maybe this fishing cooler is not very convenient to carry. It depends on your choice. You need to lift it with both hands. Of course, if the cooler has a protective cover, it can be hung diagonally on one shoulder.
---
The following types of coolers are very suitable to be carried at any time for fishing. These are equipped with wheels and hands, which can be retracted and dragged forward. It is very easy and convenient to carry as long as the road is flat.
3. Alpicool TWW35L Fishing Coolers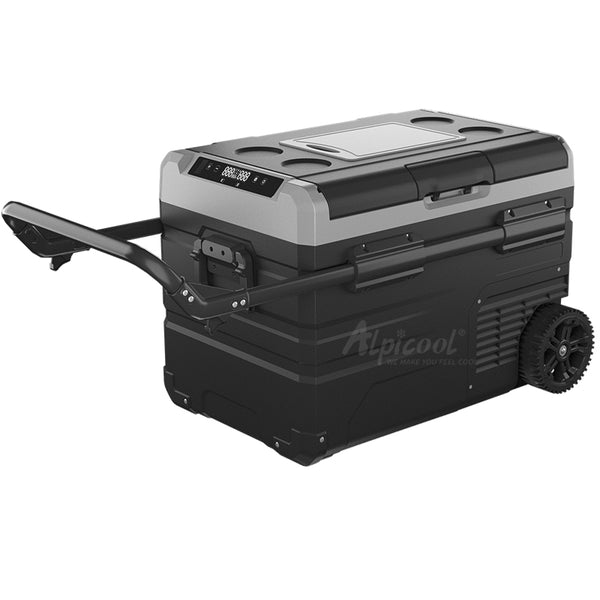 Detailed introduction: Alpicool TWW35
Smooth and non-marking rollers, with locking telescopic handle, is one of the best portable fishing coolers. You will find it very easy to carry and move, even if you have filled it with 35 tank capacity. Considering top quality and performance, it is also the most affordable fisherman cooler on this list, and it's great value for money.
 To learn more click here: Fridge with Handle and Wheels
Fishing Coolers FAQs
What size cooler is good for fishing?
As a rule of thumb you can say that a 25 quart fishing cooler is enough for an afternoon on the paddle board or kayak. If you are planning to spend a whole day, look in the 45 quart range. For a whole weekend or a couple of days on a boat, consider getting a cooler in the range of 70 quarts upwards.
Do you need a cooler for fish?
A fishing cooler is the best choice for keeping your fish fresh until you get home. Many of the best fishing coolers will keep fish fresh and chilled all day, even in hot weather. Fish that are put on the ice and kept chilled will taste better than fish that are kept on a stringer or in a live well where they can die.
How big of a cooler do I need for deep sea fishing?
Only bring one cooler, please. We have limited space on board and usually one cooler up to 48 quarts is plenty big enough to handle your food and beverages. Some people grab the cooler out of the back of their work truck that is dirty, oily, greasy or muddy. Please wash it or bring a clean cooler.