Alpicool C15 Reviews from evaluation experts and consumer owners
Maybe you are planning to buy an Alpicool C15 portable refrigerator. Below is a summary list of comments from some review experts and consumer owners about this refrigerator. Their feedback can help you as a reference choice.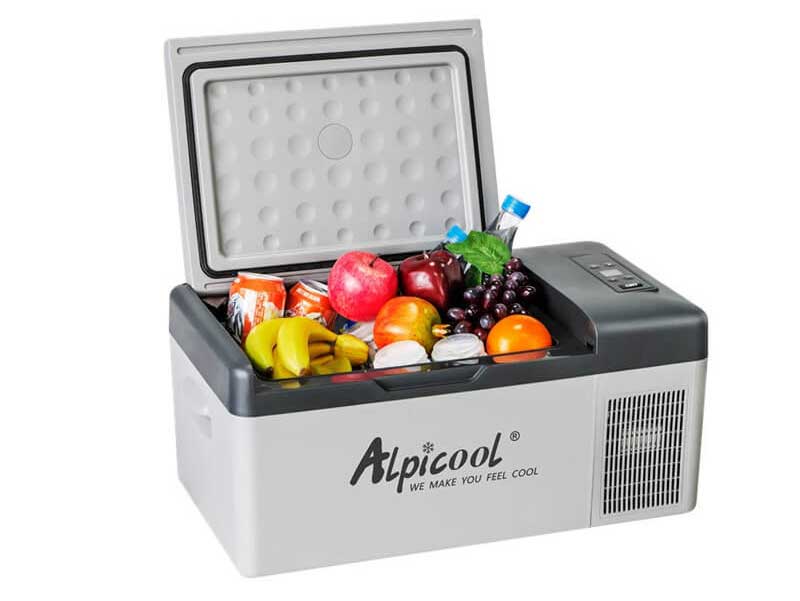 Breezer Freezer's experts review on Alpicool C15
Portable refrigerators are a must if you're a fan of traveling, road trips, or simply being outdoors. But these aren't the only reasons why they're a good idea. The convenience of having refrigerated storage wherever you go is simply life-changing.
However, this means you have to choose the right product from virtually hundreds of models. Today, that's not an easy task. But we believe that it's possible with the proper research, testing, and assessment.
And that's what we've found with the Alpicool C15 Portable Refrigerator. Rigorous tests, both at home and on the road, show that the Alpicool is unmatched in versatility and efficiency. But to truly understand why and how we need to get into a few more details. Kindly stick with me as we go through what makes the Alpicool C15 a great portable freezer. I believe it will save you the trouble of going through a dozen questionable reviews online. And better yet, you might just find the portable fridge that's just right for your requirements.
Alpicool has been in the refrigeration game since 2013. Although that's not a very long history, the progress they've made in less than a decade is staggering. Today, they enjoy an exact niche within the industry. And scores of road-trippers and adventurers swear by their equipment. The steady success of their products may also be because the owners are outdoor enthusiasts themselves. So, they understand the kind of products and utilities that people need on the road.
Anyway, I've personally used the Alpicool C15 for about a year now. And before that, we used one owned by our adventure club. So, I'm pretty familiar with how reliable this unit is. But for added accuracy, I've collected feedback and testing results from some industry-leading players. The result is impressive but not surprising at all. Let's focus on the features first.
Features of Alpicool C15
Storage and Capacity
The first thing I look for in anything portable is the capacity. After all, that's what the makers must compromise to keep it portable. There has to be a balance in the trade-off, though. Those 4-5L portable fridges are light and easy to carry. But they fall short for those times when you're spending the whole day on the road. On the other hand, it's not practical to have a 25-30L fridge riding in your car. This is where the Alpicool C15 truly shines. With 16 Quarts (15L) capacity, it gives you optimum storage for the day(s).
I've carried up to 20 12oz cans on this unit many times. It can hold 15 16oz bottles. If we're road-tripping in summer, I go for ten 18oz bottles of water (hydration is necessary). If it's a picnic, this unit can hold 5-6 bottles of 25oz red wine. Of course, you may have to adjust depending on the shape of the cans/bottles. But the capacity is pretty solid on every front.
Size and Dimensions
The next feature to look out for in a fridge is the dimensions of the unit. If it's built for portability, you need it to fit in your car, jeep, boat, RV, etc. My outdoor plans usually involve driving around, heading to the beach, or going fishing. And the Alpicool C15 is compact enough for any outing or travel plan.
The whole unit has 22.4 x 12.6 x 10.2 inches (L x B x H). It's a rectangular-cube of sorts that lends itself to any tight space or corner. I've found them especially useful for driving and fishing trips. If there are a few of us, we usually resort to driving an RV around. Plus, fishing and beach trips typically involve a boat. But the Alpicool C15 is perfect for each of these situations. The internal measurements come to about 13.8 x 9.7 x 7.3 inches (L x B x H). So, that gives you the capacity for the bottles and cans mentioned above.
Efficient Freezer
One thing other mini-fridges miss out on is the freezing capability. They usually run on low power, which means they can keep things cool but can't act as a freezer. The Alpicool C15 Portable Refrigerator breaks this threshold. It's still a portable unit but with a freezer that delivers.
Used as a freezer, the Alpicool C15 can take temperatures down to -4°F (-20°C). That's way more than enough for any beverage for the adults or ice-cream for the kids. You probably won't need -4°F levels of freezing every day. But knowing you have the luxury certainly makes things better. This low limit allows you to enjoy a freezer for food and beverages without pushing the appliance to its limit.
Reliable Refrigeration
The Alpicool C15 delivers one of the most stable refrigeration thanks to its temperature controls. You get convenient buttons that allow you to move across different temperature levels. So, it's not just the freezer you're controlling; it's also the normal refrigeration functions. You can choose the appropriate temperature-level based on what food or beverage you've stored.
The temperature control allows you to shift between -4°F and 50°F. That's wide enough to accommodate a whole range of items. This versatility makes it great for everything from fishing and driving to camping and other outdoor pursuits.
Energy Efficiency
Another great feature of the Alpicool C15 is economic power consumption. If you get the right combination of temperatures, you can run on just 1kWh for several days. This combination, of course, takes some time to get. But knowing that it's possible is peace of mind like no other.
If you're a fan of free and renewable energy, you probably have a solar system installed. Whether it's in your car, RV, or boat, these systems provide crucial energy on-the-go. The Alpicool C15 can use a 12V DC adapter to connect to your inverter and still function. It's another sign of how energy-efficient this refrigerator is.
Battery Protection
This one is a personal favorite for me. It has a three-stage system for protecting your batteries. It comes in a high, medium, and low setting that the fridge runs on. When it kicks in, it can prevent your batteries from running down. This kind of surge can damage your appliance, batteries, or both. It works like a surge protector by automatically turning the power off when required. It's beneficial if there's an overload or if your car batteries are running low on voltage.
Portability
Finally, the feature that makes this portable refrigerator what it is. The Alpicool C15's other features are so useful that I often forget how portable it gets. With all the features and functions on this unit, you'd expect some excess weight along with it. But the Alpicool C15 still keeps it as light as possible.
The unit weighs only about 18.92 lbs. That's lightweight, considering all the mechanisms and features it carries around. And it's a remarkable feature because the insulation, materials, covers, etc., all adds more weight. It just goes to show the engineering expertise with which Alpicool constructs their products. 
LCD Control Panel
The Alpicool C15 is also a smart refrigerator in a way. The sleek LCD panel on the right corner gives you easy control and access to the unit. The board consists of the power button, display, settings, increase/decrease temperature, and a USB port. You can also switch between the different battery-protection modes from here. Additionally, you can use the panel to move from maximum or ECO levels of power and temperature.
Shockproof and anti-shake
The construction also comes with a shock-proof feature. The build is robust and strong enough to withstand jerks and tosses. Of course, we're talking about good shocks here. But it's still a beneficial feature to have if you're driving on bumpy roads.
The anti-shake helps the fridge to continue functioning even at inclined angles. The angle has to be less than 45° for this feature to work. But it's beneficial on an RV or a boat where movement is sometimes erratic. Other refrigerators usually stop working if the appliance is leaning or oriented towards one side. This feature makes the Alpicool even more suitable for outdoor and travel settings.
Additional Features
Sealing and Insulation
The Alpicool C15 has one of the best sealing lids in the industry. The top lid latches on to the handle to keep it closed. And it comes with quality insulation. The high-density foam ensures that it doesn't lose or gain temperature from the outside. Also, it helps the unit stay air-tight when closed and sealed.
Low Noise
A lower noise level is a common feature in most mini-fridges. The reason is that smaller fridges don't rely on compressors. They usually use semiconductors to maintain cooling while keeping the noise low. If you're out on the road, you want to hear the music or the sounds of the environment. Loud appliances can ruin this experience by being a distraction and a nuisance.
The Alpicool C15 gives off less than 45db of sound. On average, I think it runs on about 40db. That's quieter than most other appliances that run on this kind of power and voltage.
Hidden Features
In many ways, the Alpicool C15 is the experimenter's dream appliance. The control panel allows you to tweak some features that unlock specific capabilities. These features, of course, will come after some use and experience. But every discovery is like a gem that enhances the appliance.
I don't want to list everything here because discovering them is part of the joy. But as a teaser, I'll mention a couple of stuff I've found recently. First, you have to turn off the cooler with soft power-off action. Then, press and hold the 'Set' button till you can see E1 in the display. Once that appears, each time you press 'Set,' it will move to a particular E series function. For instance, E1 takes it to the lowest temperature setting (about -4°F). E5 changes the temperature unit from Celsius to Fahrenheit. The rest I'll leave it to you to figure out on your own (It's more fulfilling that way).
Heat Dissipation
The front and side panels have vent-like grills for dissipating heat. These vents ensure that excess heat does not get caught within the freezer. If these vents weren't present, your beverages would warm up faster. Or you'd need more power to keep the freezer running. This feature is a nice touch because it adds to the whole efficiency of the system. It's also an example of how individual components work together to make the Alpicool C15 a well-rounded fridge/freezer.
Packaging Contents
The contents are pretty straightforward. You get the Alpicool C15 Portable Refrigerator. Additionally, you'll get a 12/24V DC cord and a 110/240V AC cord. The DC cord is for use in your car. Simply plug it into the car lighter, and off you go. The AC cord is for use in regular wall sockets that we have in our homes and offices.
Final Words
The Alpicool C15 is a portable fridge made by adventurers for adventurers. But it's so affordable that anyone can have a unit at home. So, you don't need to be a frequent road-tripper just to enjoy the benefits of this fantastic appliance.
In my mind, there's no doubt the Alpicool C15 is the most versatile mini-fridge available today. It has the best-rounded set of features. And the overall built and quality is superior to the competition. If you add the freezer's efficiency and the hidden parts, the Alpicool C15 is the winner among similar products. Until a competitor makes a better portable freezer, the C15 will remain my go-to product in this category.
As someone who juggles work, home, and adventure, this fridge offers me all I need. If you're looking for a portable freezer that works in most situations, the Alpicool C15 is one of the best out there. And trust me, if it worked for a hectic lifestyle like mine, I'm confident it'll work for you too.
Click to buy: Alpicool C15/B15L Mini Car Refrigerator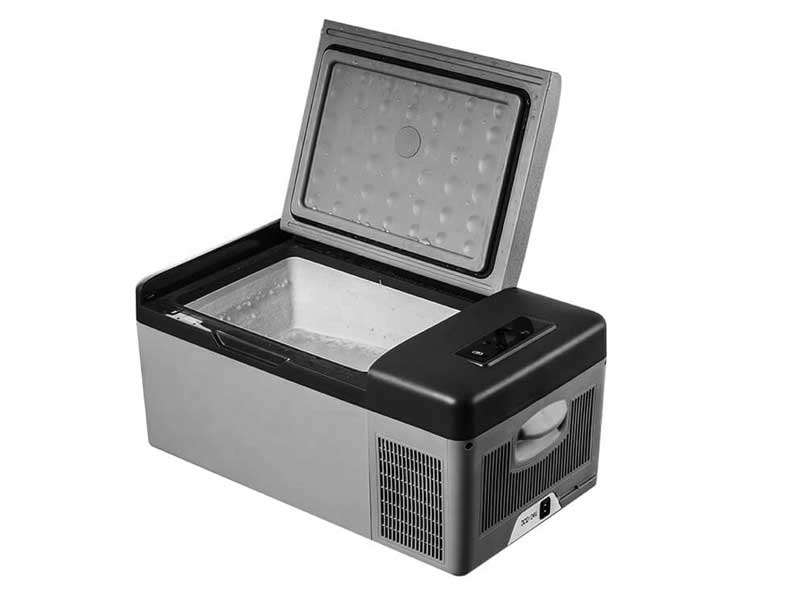 Alpicool C15 12 volt car fridge by Jay's Technical Talk
I bought an Alpicool C15 model compressor/refrigerant based car refrigerator/freezer for a project. They also have a C20 model which is exactly the same but has a "bump up" in the lid for 20 liters of capacity.
Quick summary of the review video above: 15L interior capacity, can get the interior down to at least -12C, chills four 12oz cans to 3.5C in 4.5 hours, freezes 2 lbs of water in 12 hours, draws up to 50 watts continuous when the compressor is running (never goes above 150 watts on startup so can be ran by my Ego Nexus Escape). It averages 13 watts draw over a 24 hour period at 0 deg C without opening the lid (310 watt/hrs in a day). When set to -20 deg C it draws an average of 25.4 watts per hour (610 watt/hrs in a day).
The amount of insulation is relatively minimal (especially if you are using it as a freezer) but the internal volume / total surface area is small enough that it really doesn't take up that much power as a refrigerator. Its all plastic construction and friction fit lid is cheap (reflecting the price I paid) but serviceable. My unit was damaged in shipping and had some plastic break off the side, but still functioned fine. As I plan on voiding the warranty and most of the exterior case in my project, I didn't mind, but a normal customer would have shipped it back to Amazon for a replacement.
Video on how to use the control panel (including converting the display to Fahrenheit) is here:
Alpicool 15-Liter 12V Mini Fridge Review by Paloma Peter-Dzoho
Who needs the Alpicool C15 Refrigerator?
This Alpicool portable refrigerator is an ideal travel companion and would come in handy whenever you are on the road. It comes with a 12-volt DC cable. So you may even be able to plug it to your vehicle's cigarette lighter.
What's more? Its portable size makes it suitable for use on outdoor trips.
So, if you are looking for a portable refrigerator to keep your food and drinks cool during picnics and other outings, this cooler may just be what you need.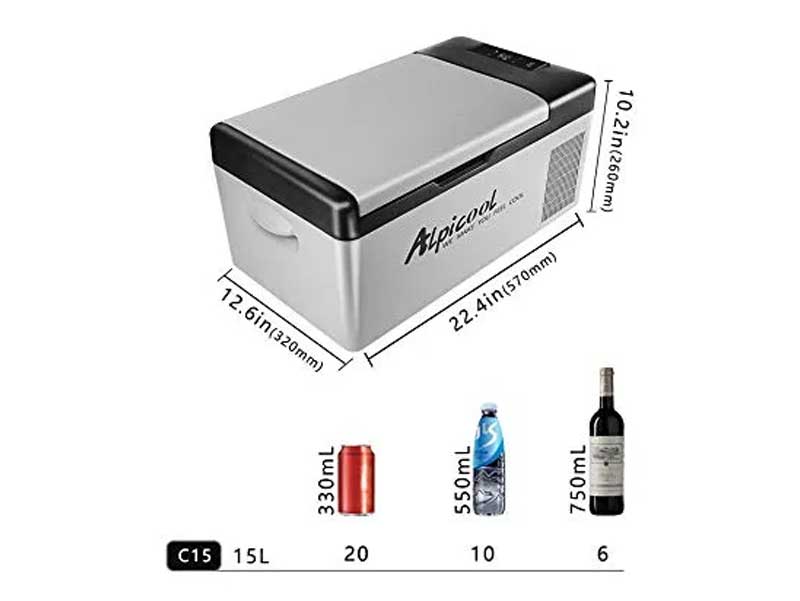 Although this cooler has more popularity among road travelers, its use is not limited to this group alone. Anyone can purchase this cooler if they would like to enjoy cold drinks while they drive around town. You may even choose to use its AC adapter to have it run as a mini-fridge in your home.
Pros of The Alpicool C15 Fridge/Freezer
Fast and Powerful cooling.
It has a 3 stage battery protection system so your battery is never completely drained.
No need for additional ice as this cooler is able to cool and even freeze its contents.
Adequate storage space.
This cooler is lightweight, portable, and easy to carry around.
Cons of the Alpicool C15 Fridge
Its controls are difficult to understand and there are a number of hidden figures that suggest this cooler might be better for tech-savvy people.
What users are saying about the Alpicool C15 Freezer
The general consensus on this Alpicool cooler is that its cooling is rather efficient. A lot of the users were pleased with their purchases because this portable cooler in their words "works like it's supposed to". It cooled food and drinks to low temperatures very quickly with some users commenting on how it turned their drinks to slush.
Some of the users also opined that this portable fridge will give you your money's worth.
They were thrilled to find out that this cooler performs just as well as other more high-end coolers that are pricier.
In addition to this, the cooler's power-saving functions were also greatly appreciated by the users. But who wouldn't love a feature that helps you save energy and protect your car's battery?
However, this cooler is not without some drawbacks.
For instance, there's the issue of the complexity of the controls. And so a number of our users weren't able to get the best use out of the cooler because they couldn't figure out its functions. They were also unable to access some hidden features.
Still on the drawbacks, some users complained about the temperature gauge being incorrect. This was a problem for some but was easily resolved by using an external thermometer to calibrate the cooler's temperature.
Alpicool C15 FAQs
How long will a 12-volt battery run a mini-fridge?
12-volt battery will run a mini-fridge for approximately six weeks.
1.2 watt LED light running on a 12-volt battery is an example of a small user of power. Therefore, 1.2 watt/12 volt is equal to 0.1 amps, which means that a 100 amp hour will last for the said period.
somewhat different example is a 60-watt mini-fridge running on a 12-volt battery, which is equal to 5 amps. However, this works only when the motor runs.
What sets the Alpicool C15 Mini Fridge apart from others of comparable size?
Two cords. The Alpicool 15-liter 12V Mini Fridge/Freezer has two cords. One of which is used to plug into a wall outlet, and the other, into a cigarette lighter plug. Also, both cords plug into the same port on the cooler.
The Alpicool 15-liter 12V Mini Fridge/Freezer has battery protection settings, so it shuts down before completely draining the battery of your vehicle.
There is one big compartment inside of it for food items, rather than having two or smaller compartments.
This Alpicool 15-liter 12V Mini Fridge/Freezer has a 3-position telescoping handle. Once extended, a box or bag can be placed on it for easier transportation.
The Alpicool 15-liter 12V Mini Fridge/Freezer has hidden settings.
To access these hidden settings, first, turn off the unit with the OFF button. Press and hold SET until E1 comes up. Press SET again to move to each setting in turn, and press the up/down buttons to make corrections.
The hidden settings include:
E1: Lowest temperature setting.
E2: Highest temperature setting.
E3: Temperature return setting.
E4: Soft start setting.
E5: Changing from Celsius to Fahrenheit.
If the unit's screen goes blank while trying the settings above, turn it off. And after ten seconds, try again.
Can the Alpicool C15 refrigerator be used as a freezer?
The Alpicool 15-liter 12V Mini Fridge/Freezer can be used as a freezer.
You can do this by controlling the temperature using the digital control panel. If you need ice or frozen items, use the heat according to that of about minus four Fahrenheit.
Interestingly, this unit is good as an unplugged cooler too. It can keep food items cool and fresh for a longer time. However, the Alpicool 15-liter 12V Mini Fridge/Freezer might not work properly if it has issues with the compressor. So, paying attention to the compressor is very important.
What are the applications of the Alpicool C15 Freezer?
The Alpicool 15-liter 12V Mini Fridge/Freezer can be used at home, for traveling, camping, fishing, and road trips. It can reach freezing temperatures, or hold a cold temperature without freezing.
This unit can also be used while transporting an expedited cargo. All you need to do is store your drinks and food items in them as you journey. The Alpicool 15-liter 12V Mini Fridge/Freezer also has a compressor, so you can be sure that you'll be using it for a long time.
How do I maintain the Alpicool C15 Mini Fridge?
The best way to maintain the Alpicool 15-liter 12V Mini Fridge/Freezer is regular cleaning.
Experts say that there is no need to turn off the refrigerator if you want to clean it. Ensure that you remove the food items first, and clean the unit with lukewarm water mixed with baking soda. Use a clean rag or soft sponge to thoroughly wipe the inside of the unit, as well as the sides. And finally, dry it with a clean cloth.